Back in the long, distant days before lockdown, corporate video was a perfect way to share company updates. Things like capturing pieces to camera with heads of department to share important messages or filming events and conferences to update those further afield were fairly straightforward affairs.
But as work and travel restrictions continue in the UK, it's much harder for businesses to communicate with their teams in the usual way. Thankfully, Zoom / Skype / Microsoft Teams has stepped in to help keep the conversation going!
But over the years, a lot of businesses we work with have liked to capture these events on video to share again in the future, either internally or across social media. So if your monthly 'Town Hall' catchup or quarterly financial update has now been replaced by a Zoom call, is there's any way you can create decent looking video content from it?
Thankfully, yes. And it's rather easy too.
By tweaking a few settings in Zoom (or your equivalent video conferencing application) you can produce video files that can be easily shared with a video editor (or professional corporate video production company of course)  who can then create polished and professional video content.
Here's how to keep your team in the loop with video content using Zoom!
Set up your Zoom account for video recording
Zoom allows you to record your video conferences and save them to your local device on their free plan. You need to be using the Zoom Desktop Client on Windows, macOS or Linux though, not the mobile app. More options and bells and whistles come when you hand over the cash, of course, including the ability to record with the mobile app. But everything we go through here, you can do on the free version.
Firstly, let's sort out a few account settings to make sure everything is in order. All you need to do is:
Log into your Zoom account in a browser
Head to the Settings area (can be called 'Meeting Settings' or Account Settings', depending how your account is set up)
Go to the 'Recording' tab
Find the 'Local Recording' option and make sure the toggle is turned on (like in the image below)
Toggle the 'Automatic Recording' button too to save you needing to remember to hit record!
You have the option to include a customised disclaimer before the recording starts too, so it's recommended to do this so everyone in the call is notified that they are being recorded. It's just like when we're on a corporate video filming day in a public place or like when we're filming an event video, we stick up signs to show that filming is taking place and that participants may be captured.
Tweak the options in the Zoom Desktop application
On launching the Zoom Desktop app, there are a few important options that need looking at before you start your call.
If you're looking at editing the Zoom video files afterwards (or getting a professional video production company to do that, obviously!), these options will make that process so much easier for all involved!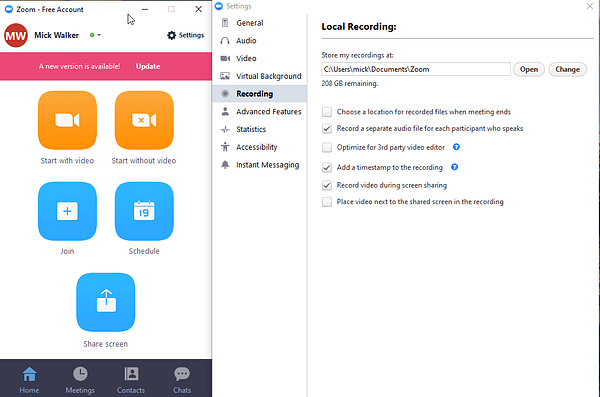 Store my recordings at:

Firstly, pick the folder where you want the recordings to be stored. The best option here is to chose a folder on a cloud service such as Google Drive or Dropbox. If you share that folder with your video editor, any recordings can be automatically synced between the two of you hassle free!

Record a separate audio file for each participant who speaks

Definitely useful to have this option on! When it comes to the edit, this means that the video editor can mix the sound levels of each individual speaker. Handy if your participants tend to talk over each other, or forget to mute their mic!

Optimise for 3rd party video editor

This means the files that Zoom creates will be easier for video editors to work with as they'll be in a specific file type. MP4, if you're interested. Tick this box for sure!

Add a timestamp to the recording

Untick this box, you don't need an ugly timecode all over your video!
Starting your Zoom recording
Now you're all set, here's how you begin your Zoom recording. It can only be the host who records the meeting, or grants a participant the ability to record, so make sure you have this set first.
Start your Zoom meeting as the host
If you have Automatic Recording enabled, the Zoom call will be recording straight away!
It's as simple as that!
Once your session is complete, Zoom will convert the meeting recording and open the folder where the files are saved.
Share your files with a professional video editor
If you followed all the steps above, you'll be ready to share your video files with a professional video production team. They can then turn your Zoom recordings into a polished video for your company intranet, YouTube or social media.
We've done this several times for our clients, adding captions, graphics and animation to fairly simple Zoom recordings to create valuable online content.
Until the day comes when we can safely share a meeting space or event hall, this works pretty well!