YouTube is the most popular video-sharing website on the planet. It's simple to upload both homemade videos and professionally produced content like promotional videos, video blogs and event videos.
But it's not just a case of dragging and dropping your video onto your YouTube page and hoping for the best!
Here's our simple, step-by-step guide to getting maximising exposure from your YouTube videos..
Title
The biggest mistake that people make when uploading to YouTube is forgetting to add a memorable title.
You should treat your video title with as much care as you would if you were writing a blog headline, email subject header or any other piece of attention-grabbing marketing. Remember, people will only click on the goods if they are interested in what you have to offer, so make it enticing! Make sure not to go for anything misleading or that might come across as clickbait, you want to be building trust with your potential audience here so if you mislead them, that's a sure fire way to lose engagement!
Your video title will have a huge impact on your YouTube ranking too. After all, your audience will put words into a search bar in order to find your video, so make sure the keywords you choose are relevant.
Add A Decent Description
A well-written description, using just enough of the right keywords will help your video show up in a wealth of search results. But to make your description effective you need to be a bit savvy with it. Keep it conversational, not just a stream of disjointed keywords, and try to limit the placement of your keywords to the beginning of your description if you can.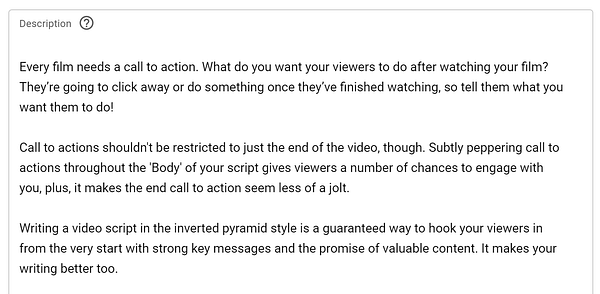 You have around 5000 characters to use in your description. But prioritise the first few sentences, as it's these words that will appear before the 'Show More' link. You can always add a transcript of your video here too.
Add Tags
"Tags" are simple words and phrases that YouTube uses to help your video to reach its target audience. They're used in the 'backend' of YouTube so they won't show up next to your video.
YouTube will give you suggested keywords as you type them in, but make sure they're appropriate before you add them to your videos. Add in a combination of niche and generic tags. You can use both single words or short phrases as tags too, so you can be super specific in your targeting.
Choose the right tags and your videos will be much more visible and show up alongside other similar videos in the YouTube search and 'Up Next' areas in the sidebar.
Pick a Perfect Thumbnail
The thumbnail is the image that comes up next to your description in any search results. It's also shown as the holding frame when you embed the video on a website, like this:
If the picture is irrelevant to the subject of your video, it won't encourage viewers to watch. Nor if it's boring, so don't go for the default option YouTube gives you and always try to create something unique. Choose an image that is immediately recognisable as relevant to your video for maximum effect. Faces are good, as are bold colours and text.