The more content you have on your YouTube channel, the easier it is to grow your brand and increase views and subscribers. Your audience will see you as a trusted authority and are more likely to recommend your videos to others, add comments and subscribe.
But what more can you do to drive this engagement? Do you need to be constantly checking in with viewers through comments and messages, or should you be spending time on ensuring your channel has a consistent look and professional feel?
Here are a few things we've found useful when helping our video production clients maximise their YouTube channels.
Write (and re-write!) engaging, clickable video titles
The title you give your video on YouTube is far and away the most important bit of YouTube marketing! Even more important than the video! If you have an amazing video but a naff title, then you're massively restricting the amount of people who are likely to watch it!
If you want to get the most out of your YouTube channel content, chances are you'll need to go over your old videos and take a fresh look at their titles. If you've been uploading videos for several years, the titles you originally gave your content back in the day might not have been the best. Or even worse they may no longer be relevant.
Take some time to go through all your existing video and make any necessary changes to the titles. Perhaps there's a keyword that has worked really well in driving viewers to your recent videos that could do with being added to your older videos? Maybe there are inconsistencies in terms you have used? Perhaps the grammar of your older videos leaves a bit to be desired?
The key to crafting a good YouTube video title is grabbing your audience's attention without resorting to lazy, click-bait headlines. Similar to how you'd carefully consider what an engaging email newsletter headline would be, think carefully about what will make people click.
Use playlists to organize your YouTube content
The more video marketing content you create for YouTube, the easier it is for your channel to get messy and confusing. That will without a doubt make your channel less appealing for new subscribers.
Over the years, you may have uploaded a broad range of video content to your YouTube channel. Everything from promo videos and explainer animations to video blogs and more.
To keep some sense of order to this, playlists are vital.
Creating different playlists allow you to group your videos into categories and organize your channel better. It makes it much easier for people to navigate through your channel and find the content they want (and the content you want them to find!).
Not only that, playlists also appeal to your viewers' desire to binge. For example, if you have a series of video blogs around similar topics (like we do!) having all these in a playlist make it more likely that people will discover other content you've created at the same time.
Playlists can be grouped by the type of content (eg – video blogs) or by the different audiences you may have. Whichever option you go for, organizing your videos into YouTube playlists makes them easier to binge-watch!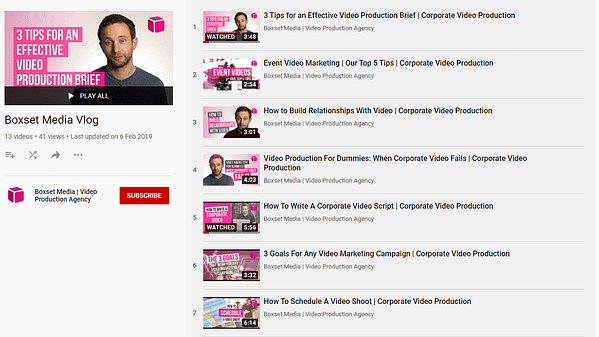 Cross-promote your older videos on YouTube
If you've been uploading content to YouTube for a few years, chances are you'll have a few videos that overlap and cover similar topics.
To squeeze more out of your older content, make sure you cross-promote your videos when it makes sense. For example, you can add a link in the description of a new video that encourages viewers to check out any existing or older videos as a call-to-action. You might even think of referencing it in the actual video itself and adding a link into the description.
Helping to point viewers in the direction of older content encourages binge-watching too. Once your audience realise that there is a wealth of other older, but still relevant, content on your channel, they're much more likely to subscribed and get engaged!
Target the search engines (but not too much!)
As YouTube is owned by Google, it's fair to say that a strong presence on YouTube will have a massive impact on your search engine rankings.
The problem is that a lot of people fixate on only this and end up producing content for the search engines and not for their audience. You need to have a balance of both.
Videos like product review videos, how to videos, explainer videos and any longer video marketing content that covered niche keyword-specific topic rank really well. These type of videos naturally lend themselves to SEO friendly titles, descriptions and tags, making your content easier to find online.
But it's important to make sure you're creating quality content as well. Just like if you were writing a blog or sending a email newsletter, don't get fixated on only optimizing the title or headline. The quality of the content and how it will help your audience has to be top of mind too!

Get engaged with the YouTube community
Although you might not think of YouTube as a social network in the same way as Facebook,  Twitter or Instagram, it does represent a community where users are engaging with video content through likes and comments.
Any sort of interaction you can have with your viewers is a positive thing to YouTube. By engaging with your subscribers, it can help you foster a stronger connection with your audience and increase growth. "Liking" comments only takes a few seconds, as does pinning a top comment as a sort of personal note to your subscribers.
Don't just upload the video and forget about it! Interacting with your community via comments and "Likes" should be a cornerstone of your YouTube channel marketing. I'm sure you do the same on social channels? Why should YouTube be any different?
If all else fails, just ask!
Sometimes simply asking for engagement is the best way to spread the word about your YouTube channel! After all, not everyone who watches your video is going to "like" it or make a comment.
Especially if you're new to YouTube, there's no shame in asking directly for some feedback and a thumbs up. But what you don't want to do is fill the first half of your video with desperate requests to 'like, comment and subscribe' or to make sure you 'hit the bell to get updates'. If someone is new to your channel, they came to your video for content first, so make sure you give them that before asking for any interaction!
To avoid falling into that trap, get creative with the requests for interaction.
Something like asking viewers a question in your video, and getting them to answer in the comments suggestion is a great way to build the community relationship. Getting their feedback on what you'd like to cover in another video, or just encouraging them to ask questions with the promise that you'll read every one is good to – you don't have to promise to reply to them all….!
Growing your business and brand on YouTube doesn't happen by accident.
And yes, it can certainly feel like an uphill struggle if your niche is crowded with competition.
But that's why it's a great ideas to have a bunch of different ideas to keep your audience engaged in your channel and to push for growth. Some requires more direct, ongoing effort and others might only take half an hour but have a profound effect. Whichever you choose, each of the ideas above will help you get more eyeballs on your YouTube channel and more subscribers as a result.