How many times have you sat through a webinar so dreadful you thought, "If this was on TV, no one would be watching!"
I know I have. That's several hours of Zoom I'm never getting back.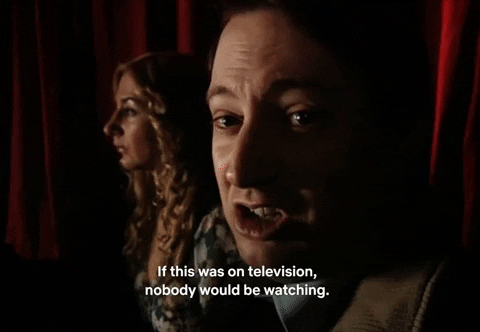 Ugly slides. Tinny sound. A camera positioned so low you can see right up the presenter's nose. Not the most inspiring way to spend an hour, is it?
*Mick Walker has left the meeting* 
But webinars are more popular than ever. 73% of companies say webinars are the best way to generate high-quality leads (GoToWebinar). So making yours look and sound polished is crucial to making it worthwhile and bringing in those leads.
Throughout my years of producing thousands of videos for businesses across the globe, I've picked up a few tips that could've helped those dreadful webinars look better!
And probably made a few more sales along the way!
Here are 3 of my most cost-effective ways to make your webinar video look a million dollars.
Choosing a webinar microphone
Getting good quality sound in any video production is just as important as getting good picture quality. But in the case of a webinar, sound quality is even more critical.
Like videos on social media are usually watched without sound, webinars are sometimes heard without visuals. 
Imagine if your attendees are sneakily bunking off work to check out your presentation or so engaged in your content they're scribbling notes on another app. They might not have eyes on your presentation, so you need to ensure that the audio of your webinar comes through loud and clear!
Having a microphone that isn't built into the camera or device, you're broadcasting from will give you far better sound quality.
Something like the RØDE NT-USB is perfect. It's a studio-quality USB microphone that's designed for voices. It has a built-in pop shield that helps reduce audio distortion and has a handy desktop stand so it can sit right in front of you as you present. 
download your free copy of my video content roadmap
Discover the videos you need to build your brand effectively and easily in my easy-to-follow guide!
Design killer webinar video slide decks
Using slide decks as part of a webinar keeps your audience engaged in your content and helps them remember the key points. 
But you need to make sure the design is on point if you want it to look a million dollars!
Imagine if you were pumped for a webinar by someone you respected, and their first slide looked like this?
Not the best first impression!
Consider approaching a professional graphic designer to create a template for you to work from. Alternatively, if you're happy to be more hands-on, use a template from somewhere like Canva or GraphicRiver to make it stand out. Here are a few tips to keep your designs looking professional:
Keep your slides on-brand by using your brand colours and font throughout.

Use illustrations, photos and icons to highlight key points. But keep them simple, don't overuse them or rely on cheesy stock images or dated designs. 

Avoid complicated charts and graphs if possible so your audience can stay focused on what you're saying and not get lost in trying to decipher complex data. 

Pay attention to white space. Give each element on the page breathing room, and don't cram too much information on one slide. Slides filled with bullet points just look plain ugly!
Webinar video filming tips
Choosing a suitable space to broadcast your webinar can make or break it. Get it right, and your webinar video will look every bit the professional presentation you want it to be.
Get it wrong, and it's likely to look more like a hostage video broadcast over dial-up internet!
Firstly, pick a room that has a lot of even natural light. The light should ideally be coming from in front of you. If this isn't the case, use a simple LED ring light behind your camera to help give your face a lift!
The camera needs to be at eye level or slightly above. Any lower, and you'll be giving everyone a high-definition snapshot of your nostrils.
Position yourself centrally in the frame without too much 'headroom' at the top. Use the rule of thirds as a guide. This is where your eyes are positioned one-third of the way down from the top of the frame.
Keep your background distraction-free. Sorry, but no one cares how many awards or copies of your own book you have on your shelf.
Think of it like an actual face-to-face presentation. You don't want your audience to be distracted by whatever's happening behind your back! You want all eyes to be on you! 
No matter how well-stocked your bookshelves are, The attendees' focus needs to be on you. It won't win any design awards, but a plain white background will do just fine.
You can read more about what makes an excellent filming location here too.
Conclusion
You don't need to break the bank to enhance the quality of your webinars.
You don't even need the most expensive webinar on Amazon.
Just make a few improvements to the sound, slides and setup of your webinar, and you're onto a winner.
You never know, it might even look good enough for TV.
How's your webinar video setup looking? Let us know! Find us on Instagram, Facebook or Twitter and share your pimped-out webinar setup with us!